Artesana Luxury Villa offers a unique experience for the discerning traveler to enjoy the "World's Best City"
and
the top rated Rosewood Hotel from the comfort and security of an exclusive private residence. Guests have access to
EVERYTHING
the Rosewood Hotel has to offer, including fabulous room service, 1826 Restaurant & Bar, Luna Rooftop Tapas Bar, Agua Pool Restaurant and Bar, La Cava private dining room, Los Pirules outdoor dining, Artesana Bakery and Coffee Shop, Sense Spa, World Class Fitness Center, Tennis Courts, Manicured Gardens, Swimming Pools, Hot Tub, Steam Room, Sauna, Business Center, Rosebuds child care, and so much more.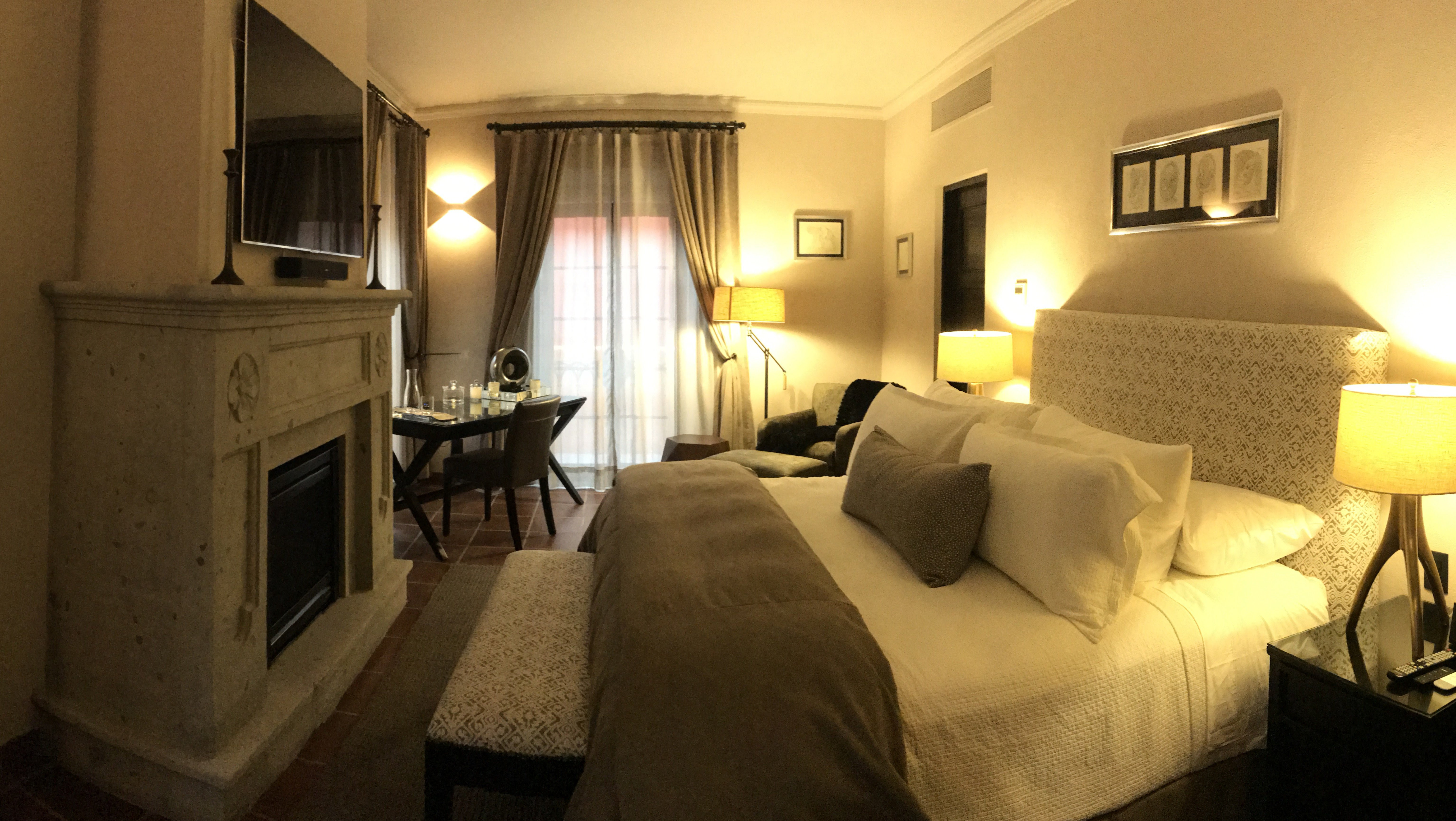 The common areas, includes two beautiful outdoor patios, with captivating original art pieces, manicured landscaping, fresh cut flowers, snacks and fresh, naturally flavored water. Each of the three individual rooms has an exquisite king size bed, generous work space, closet, and shower, and is handsomely appointed with exceptional amenities and round the clock staff, including daily housekeeping and turn down service.
Your stay includes: Welcome beverage-Complimentary bottle of mezcal -Fresh cut aromatic flowers-HDTV with SkyTV-Bluetooth Stereo & CD player-Aromatherapy-Secure keyless digital entry lock-Personal safe-100% Egyptian cotton sheets-ultra high speed mesh wifi-Haus elite 100% cotton imported bath robes-Complimentary cotton slippers-Multiple setting hand held shower head-BVLGARI bath amenities-Blow Dryer-Motion sensitive night light in the restroom.
(Any business or individual can sponsor a VIP Club newsflash! We send out over 1800 emails to our members once-to-twice a month. Cost to sponsor a flash is 1800 pesos.)

Greetings!

Big-Time News! . . . . Once again, San Miguel's Super, Airport, Shuttle Service, BajioGo, extends its generosity with an "exclusive" offer towards VIP Cub Members while celebrating their 9 years of San Miguel business and service!


For one day only, Friday, September 1, 8:00 am.- 6:00 pm. VIP Club members only, buy a seven-pack of airport shuttle coupons for $100 USD., cash only . . . No expiration date, . . . transferable . . . good for shuttle rides to Leon, Queretaro and San Miguel's airports only . . . limited, one packet of coupons for each card holder . . . don't forget your card.

Don't miss it! Monday, August 21, 2017, some time after 1:00 pm.


It was a once in a lifetime shot of the Solar Eclipse, July 1991, from the Big Island in Hawaii. My photographer buddy John Kirkley, caught this shot just right that day, so I wanted to share.
THE RESTAURANT



Mi Casa Restaurant at Insituto Allende is now: "Bistro Mi Casa."


August line-up for dinner and music shows in August.
Guests should arrive to dine 6:15 - 6:45 pm.
Music commences after dinner and dissert. (150 cover charge)
Tuesday, August 22: Gil & Tziganko Colectivo Artisico
Wednesday, August 23: Gil & Media Luna
Thursday, 24: Gil & Gabriel


Get on Bistro's mailing list: bistromicasasma@gmail.com
VIP Club members can take 10% of their bills (food and drink) when paying cash.
PAPRIKA


BUENOS AIRES BISTRO



Your getting prescription drugs to Mexico nightmare is over!
Susan Sergeant, of La Conexion's daily mail and international parcel forwarding service, has a major news announcement! . . . If you are a La Conexion subscriber (contracted at-least for three months), in appreciation of your patronage, La Conexion offers courtesy (free) delivery of prescription medicines from U.S.A. and Canada! La Conexion realizes what this new courtesy service offers clients the mental comfort assured their meds come direct without taxes or charges. Subscribers who wish to receive this service must register at Aldama #3 as to have their meds put aside in a diplomatic pouch up at the border.
Your Club heard from Kenny Peters top spy at 007, Hidalgo #30 (upstairs) Kenny wants members to know: Now open Tuesdays: a funk night,old school jams.
Wednesdays: live music9pm "TIMKA" no cover, cigars and whiskey night,5:00 -9:00pm.
Thursdays: Live Music, various artists check weekly 0:00 pm.,no cover
Fridays: live music,9pm
Saturdays: Open at 2pm, live afternoon music, 200 -4:00 pm ,then, 9:00 pm.
Sundays: doors open at noon, bloody caesar mary bar
Grilled polish sausage, Chicago style hotdogs and fresh daily tapa's


2x1 daily drink specials, margarita's 1st place in the last 2 competitions, mojitos, true Cuban style, lots of mezcals, tequilas, over 60 beers to select from. Our martini's are always shaken not stirred, best view in town. We would like to introduce our first of Suites 007-, Now taking reservations, centrally located, themed after Bond himself, great for 2-4 people, sleeping space, book now, 152-2833, acavilla123@yahoo.ca
TACO LAB


Your Club welcomes Opticare, full eye care, stylish and brand name sun glasses, eye prescriptions, contact lenses, repair, reading and seeing glasses, frames etc. with locations at la Comer, Luciernaga and in Dolores Hidalgo.
Featured at Moonrise Health, Organos #29 through August
Want to get away from some of the chaos in centro, like maybe an intimate place to take in a glorious sunset in a calm atmosphere?
VIP Club member Dan Sher
recommends:
Casa Puesta Del Sol's Sunset Terrace,
now open for cocktails from
7 to 9 pm
. Best view in town. Fuentes # 12 Atascdero/
ENJOYING TEN TEN PIE
MANANTIAL (2 X 1 TOSTADO TUESDAYS!)

Celebrate with VIP member
Cynthia Claus
, with the release on Amazon of her first book, "
An Orchid Sari"
The Personal Diary of an American Mom in 1960s India." This story of Cynthia's trip to India with her Indian husband and their toddler son to present themselves for the first time to the Indian relatives is told through diary entries and saved letters home to family and friends. Cynthia faithfully captures all that she experiences on this adventure and her honest reactions to it, all the while gamely keeping her son entertained and out of danger in a society that is like nothing she could have imagined. (Big shout out and congrats to our Cynthia for this great accomplishment!) https://www.anorchidsari.com/
WHO IS THIS MAN?
Another shout out for Club Member and author,
Gabriel Heiser
for the second time the NY Times business writer mentioned his book (see his article of June 30), but this time he mentions the brief phone interview we had this week. See paragraphs 10 and 11:
https://www.nytimes.com/2017/07/21/your-money/estate-planning/the-ethics-of-adjusting-your-assets-to-qualify-for-medicaid.html
GARUFU
Cool cat local musicians such as VIP Club member Doug Robinson wants members to know about Wednesday, August 30, at Angela Peralta, at 7:00 pm. about the tribute to Joe Cocker Concert. Get updates:
www.sanmigueljazz.com.mx
Still in the future from member
Louise Gilliiam
:
"Casita Linda
is a charitable organization in San Miguel de Allende that builds homes for the very poorest of the poor living in the
ejidos.
Each year Casita Linda produces an exciting fundraiser called the
Spirit of Hope.
Auctioned off will be luxury vacation packages. Six nights at The Grand Hotel Tremezzo, L
ake Como Italy;
A New York City stay at
The Plaza Hotel
with prime seats for the
Metropolitan Opera
and many more tantalizing getaways. "La Dolce Vita" will be held on
October 14

at the Hacienda San Miguel and tickets will be available

September 1

at Solutions on Recreo 11.
"
Always see the latest line up of VIP Club participating restaurants and other services at
http://www.vipsanmiguel.com/
Report lost cards here, for immediate replacement (no fee)

Get better : Jen McGearity

Thank you for your continuous and loyal support.

Your VIP Club San Miguel

Visitors So Far: