---
This VIP Club Newsflash is being sponsored by BAJIOGO, VIP Club Members' favorite and most reliable transportation company famed for its dependible, door-to-door service.
A letter to VIP Club members from Luis Mondragon owner/operator BajioGo:
Dear VIP Club Member:
I want to first thank VIP Club members for being an intricate part of the BajioGo's success. BajioGo gets great satisfaction knowing that over the years and overall, VIP Club members have chosen BajioGo as their primary airport-shuttle transportation door-to-door service.
That has all changed!
Yet despite the current crisis BajioGo is on the road and taking all sanitary precautions with drivers staff and vehicles providing the cleanest environment possible.
Again, our entire staff at BajioGo wants to express how we have felt it has been both a duty and pleasure to provide our customers a clean, courteous and secure environment while on the road.
We realize there is much uncertainty about the near future but BajioGo remains confident we will remain your primary San Miguel transportation company.
Thank you again for your patronage.
Luis Mondragon
President
BajioGo
(Businesses or individuals can sponsor a VIP Club Newsflash – over 1900 are sent out locally 2000 pesos.)
GREETINGS:
Circumstance has created dilemmas for many.
For 20-years discounts at local restaurants have been the very core of the VIP Club. At the same time, the club has diversified with a good-sized selection of other quality businesses in San Miguel that offer our membership discounts. Always go to www.vipsanmiguel.com/ (Due to the crisis and the constant flux of who's open, closed, hours and change of menus the website will not be updated at this time.)
The VIP Club's Facebook page posts daily updates: We suggest you go there, click on "like" and "follow" to follow events of your club daily. https://www.facebook.com/VipClubSanMiguel/
Your Club has put together, to the best of its ability, what restaurants are presently opened, closed etc. Do understand this list is in constant flux.
OPEN: IN HOUSE SEATING, TAKE-OUT – DELIVERY
Antigua Trattoria Romana
Bacco
Buenos Aires Bistro
Bugambilia
Cafe de Parroquia
Cafe Rama
El Coyote Flaco
El Puerto
El Tio Pablo
EmbarKdero
Hotel Casa Primavera
Hot Wings (No delivery)
Jardin Rama
Juan's Cafe (No delivery)
Kenny's Place (Weekends only)
La Choperia
Lolita
Los Milagros (Relox only)
Mania
Sirena Gorda
Tostevere

TAKE OUT & DELIVERY ONLY
AfroAllende
Arigato
Berlin
Bhaji
Birdie's Burgers
Chill
Cien-Fuego
Don Lupe Grill
Dragon Chino
El Buen Cafe
El Manantial
El Vergel
Fenicia (Weekends only)
Marsala
Nomada
Oko Noodle Bar
Panio
Pescau
Smokednlow
Taco Lab
Ten Ten Pie
Thai Kitchen
The Food Factory
The Restaurant
Vivali Cafe

CLOSED
Andanza
Aperi
Big Papa
Bistro Mi Casa
Casa Blana 7/Fatima Rooftop
Casa Nostra
Consentido
Cumpanio
El Correo
Garufa
Hank's
La Casa Del Diezmo
La Gruta
La Mesa Grande
La Muy Muy
La Parrilla a Rojo Vivo
La Puertecita Hotel Restaurant
Los Miagros (La Terraza)
Luna de Queso I & II (restaurant & cafe)
Maria Xoconostle
McCarthy's Irish Pub
Mivida
Nectar
Paprika
Restaurante Baile
Rustica
Sierra Nevada (El Parque)
Xipal
Yo
Zumo
(The restaurants above could change status at any given moment!)
MARSALA (now open seven days a week for home delivery!

LUNA DE QUESO
Has reopened the grocery department.


FENICIA
Our Lety and Nancy will open weekends for take-out & delivery

100% Kosher!


Weekend menu for take-out and delivery:
HUMMUS
BABAGGANUGH
TABBULE
DOLMAS
RICE WITH CHICKEN
BAKLAVA
CALL US  A DAY BEFORE  415 1091542
MACDONALD SERVICES: aka: Extended Roads, Extending lives!
Office hours Monday through Fridays, Noon – 3:00 pm.
Salida a Celaya 26, 415-121-9266.
For San Miguel delivery send your packages to
[Your name] – [Location, e.g. SMA]
Suite 2477
1211 San Dario Ave
Laredo, TX 78040
VIP Club member Wolfgang Lichter has a house for rent
House for rent.

An eight-minute walk from the heart of San Miguel, 2 blocks from the downtown market. "Casita Verde" 2-story, spacious, 1 bedroom with a queen-size bed, 1 1/2 bath, laundry room, lots of closet space, fully furnished, and a covered roof terrace with breath-taking vistas. Ideal for a couple or single person. 800 USD per month long term – 1-year lease-, 900 USD short-term, all bills paid except gas. Contact Ilithya 415 106 6320 or Wolfgang 415 10612 59 or 415 150 0081
SKYMED


If there ever was a time to consider Air-Evacuate. Contact: Sarah Ash [email protected]/ VIP Club Cardholders receive bonus coverage!
Our Peter Nunev

OLIO FINO

CAFE AND JARDIN RAMAS' JAIME SHELLEY & CHERYL FINN

Here are just a few menus for take-out and delivery during these times:
EL MANANTIAL


CIEN-FUEGO


SMOKEDNLOW

BHAJI CURRY HOUSE


BERLIN BAR & BISTRO


ANTIGUA TRATTORIA ROMANA


BUENOS AIRES BISTRO


BIRDIE'S BURGERS & TACO LAB


EL VERGEL


PANIO


THE RESTAURANT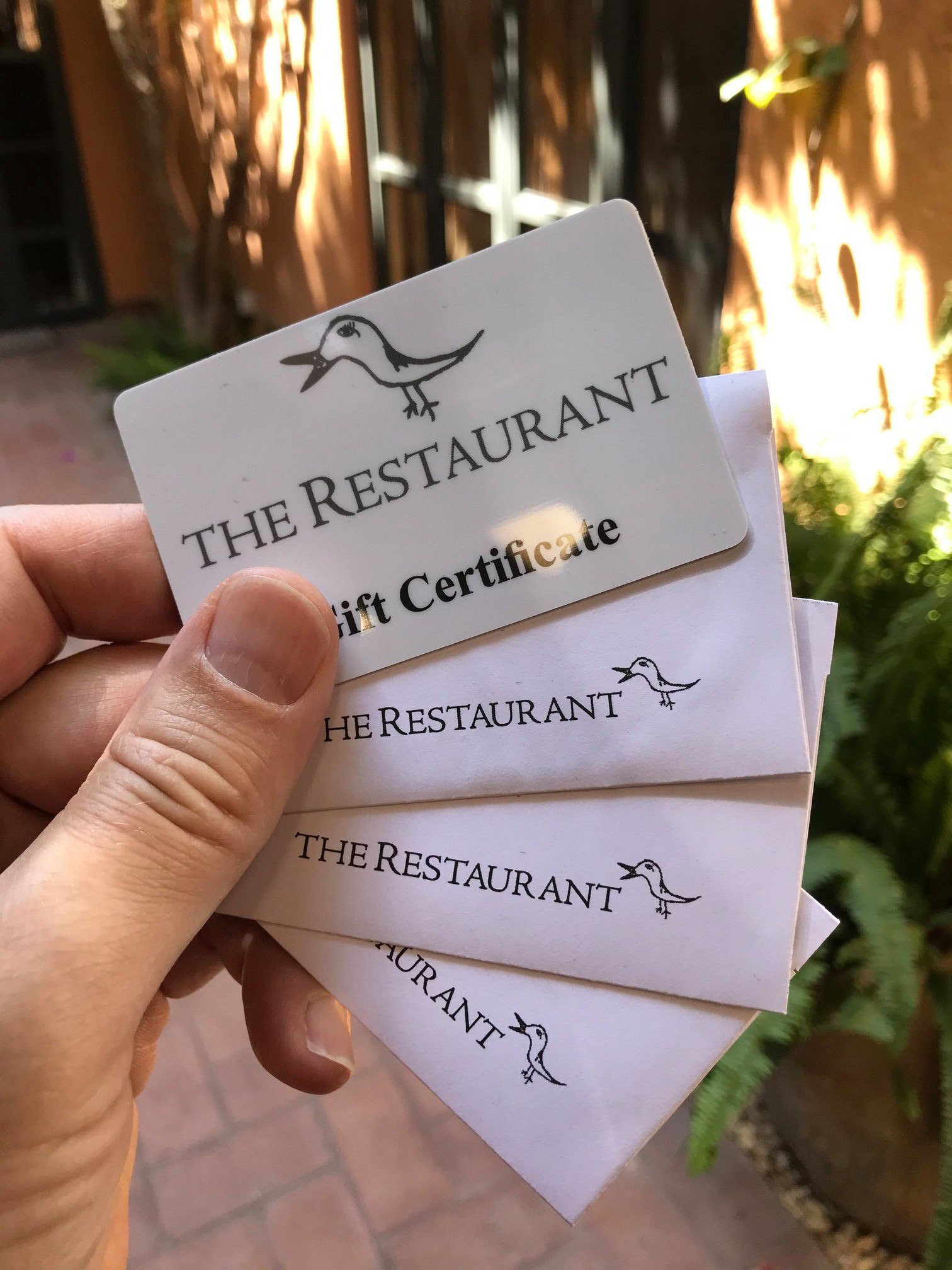 NOMADA


KENNY'S PLACE (Kenny will tack on an extra 25% to your gift.


DON LUPE GRILL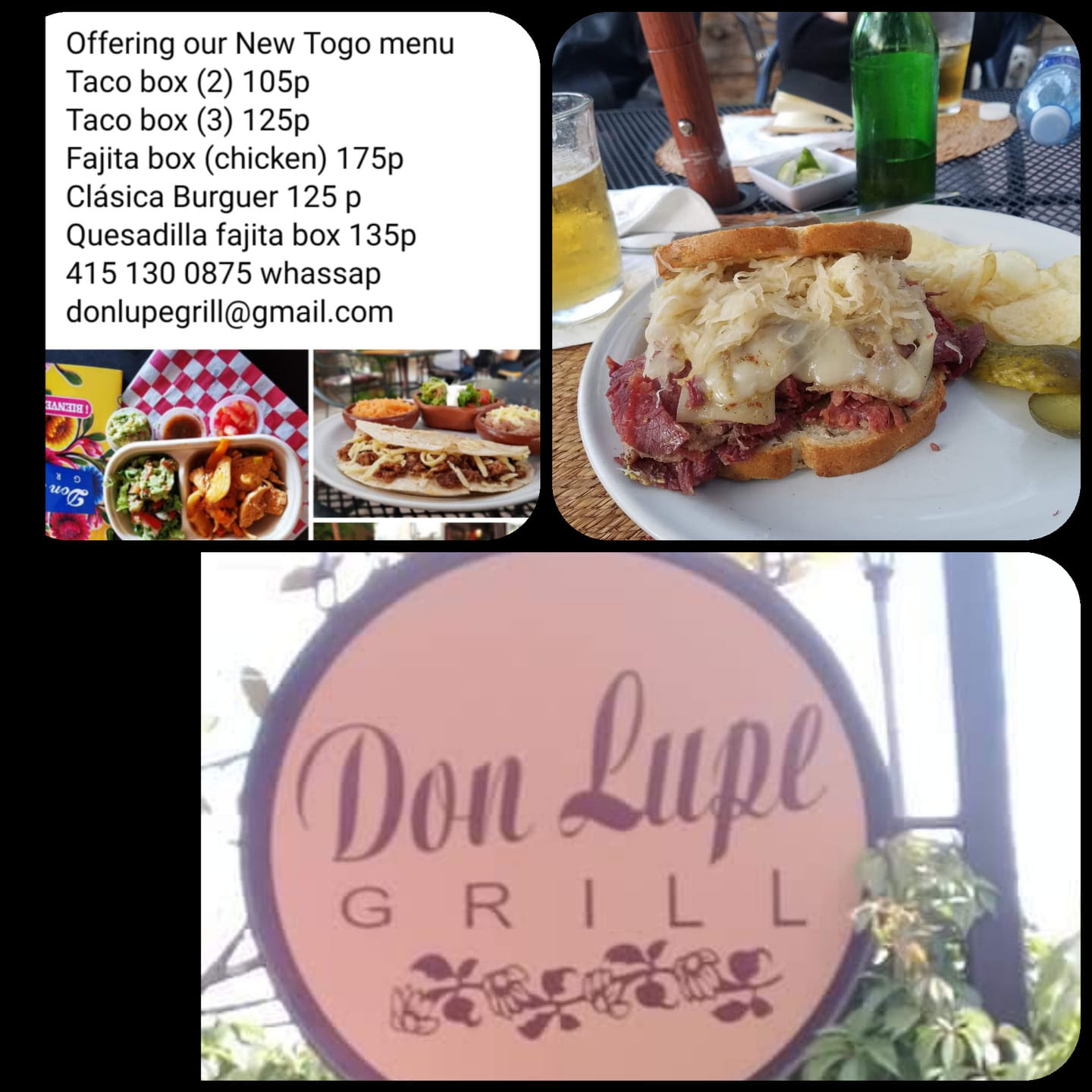 JARDIN RAMA


Menú Jardín Rama
Abril 2020
$55 pesos
Martes:
Consomé de pollo o Sopa del día
Ensalada del día
Plato de guisado a escoger acompañado de arroz, frijoles y tortillas
Vaso de agua del día o café americano
Miércoles:
Consomé de pollo o Sopa del día
Ensalada del día
Flautas de pollo o chorizo a escoger acompañadas de arroz y frijoles
Vaso de agua del día o café americano
Jueves:
Consomé de pollo o Sopa del día
Ensalada del día
Torta de cochinita pibil
Vaso de agua del día o café Americano
Viernes:
Consomé de pollo o Sopa del día
Ensalada del día
2 tacos de guisados a escoger del día acompañados de arroz y frijoles
Vaso de agua del día o café Americano
Sábado:
Consomé de pollo o caldo de camarón
Ensalada del día
1 Taco de camarón o pescado a escoger acompañado de arroz y frijoles
Vaso de agua del día o café Americano
Domingo:
Consomé de pollo o caldo de camarón
Ensalada del día
1 Tostada de pollo acompañada de arroz y frijoles
o
2 tacos de guisados a escoger del día
Vaso de agua del día o café Americano
EL BUEN CAFE


AFROALLENDE

THE FOOD FACTORY

THE RESTAURANT


OKO (Has reopened for take-out & delivery


LOS MILAGROS


TOSTEVERE


PLEASE DON'T FORGET OUR TOWN'S WAIT AND KITCHEN HELP



STAY SAFE

The above is just a sprinkling of the multiple restaurants both anxious to survive and eager to keep their customer base. PHONE NUMBERS AND ADDRESSES ARE AVAILABLE 24/7 www.vipsanmiguel.com/
We implore the membership to consider ordering delivery a few times a week as to keep this vibrant group of hard-working business people alive.
We wish to remind members again that our Facebook page posts daily, hour & menus, changes. We try to keep the flashes down to once a month. https://www.facebook.com/VipClubSanMiguel/
Like many of our determined to stay in businesses, businesses and after 20-years Your Club, while saving members money and still promoting local business, are not about to roll over and die.
We soberly realize our core business had been to promote and sell a discount card widely used by our membership in VIP Club participating restaurants. The peso to the U.S. dollar is flirting with 25-1 perhaps on a more permanent basis. At the same time we are asking the membership, to perhaps at this time, consider not asking for the discount in respect to the restauranteur attempting to save their business. That puts Your Club in an unenviable position.
Your Club will continue to market the card and send out renewal notices when cards are about to expire. We have extended our 45 day grace period to renew at the renewal rate of 600 pesos to 90 days.
Your Club will operate as usual and hope we can be part of efforts to bring our great and vibrant restaurant business in San Miguel back to life. We do know Your Club will have to roll its sleeves up and procure additional savings for our membership.
Lastly, we have no crystal ball. For now, we ask all who read this to keep your social distance, be careful, wash your hands and try your best to stay healthy. Watch out for one another.
We have a great town here and a great community and absolutely we all have something to survive for, to live for and to prosper for.
Please don't forget
DONATE HERE!!!
KEEP THE FAITH AND STAY STRONG!
Heal up:              Josefa Jonguitud Zuniga
Welcome home: Robert Bates
ONIPA'A!
Report lost or misplaced cards here for immediate replacement.
Thank you for your continuous and loyal support.
Your San Miguel VIP Club