---
This VIP Club Newsflash is being sponsored by THE RESTAURANT (Sollano #16), Bar AT THE R, (inside The Restaurant & EL VERGEL RESTAURANT.


Since its inception Donnie Masterton's, THE RESTAURANT, Tuesdays through Sundays, a chef-driven establishment that provides top-of-the-line organic ingredients from these parts along with creative recipes enabling diners to immediately taste the love, energy and effort put into each meal. The renowned Thursday night  a wide selection of custom gourmet burgers. The Restaurant besides its everyday fair prepares a scrumptious Sunday brunch where 5% of proceeds each month go to a worthwhile charity.


THE BAR AT THE R, open Thursdays – Saturdays, located within the confines of THE RESTAURANT, a later in the evening hip hang-out with tasty cocktails and Asian influenced menu including goodies like sushi, rice rolls,, ramen bowls, soups and other raw delicacies. The Bar at the R and its eye-catching decor features a sensational sound system and with turntables spinning out tunes from this and last century's favorites, often hosted by well-known guest DJs.
EL VERGEL
, Camino La Alborada 17, San Miguel de Allende, 415 110 2254 Tuesdays – Sundays, 9 am – 6 pm, later on weekends, open for breakfast, lunch and dinner. El Vergel is located 15 minutes outside town off the road to Dolores Hidalgo. http://www.elvergelsma.com,
El Vergel also comes under Donnie Masterton's umbrella with each of its dishes show casing that extra touch. Enjoy the countryside ambience along with a well-stocked food market carrying unique food items, a favorite stop off for folks who live or travel those parts.
(Businesses or individuals can sponsor a VIP Club Newsflash – over 2000 are sent out locally cost 2500 pesos.)
Greetings:
Permit Your Club be one of the first to wish each of you a Happy 2023. Entering our 23rd year our membership spans over those years. We've been blessed having hundreds of sanmiguelenses who've been with us over 20 years.
Thank you, you've been The Club's bedrock! Such valued support is never lost. On top of those folks we've many 15-10-5 year loyal members who are familiar with these newsflashes. At the same time, this particular flash for some will be the very first VIP Club Newsflash they receive.
Take it from the old timers, there has been incredible change in our fine town along, with fierce competition. We don't have to tell any of you about rising prices everywhere. The saving-grace is that you're here and likely you have a card.
Despite its beauty, sensational climate, festivals galore, sense of community, and natural beauty, San Miguel isn't for everybody and sticking it out often provides challenges one wouldn't have to deal with north of the border.
What New Year message could your Club's president deliver as a positive thought for the coming year? I'll say, what I believe most old timers will say, "Cuando en Roma…," is a worldwide reminder about adaptation. Voicing "Buenos Dias," or "Buenos Noches," on the streets towards total strangers is a time-honored tradition in this culture.
Face it, for most of us, immersing ourselves in a foreign culture is no cake walk. Often, like me when first arriving, we might muster the courage to extend ourselves and make efforts to often lip, "Gracias," "Por Favor," Con Permiso," "Buen Provecho," and "Adelante." One will soon find out employing those easy terms can go a long way; ask any old timer.
Regardless if you're here for a season or a lifetime our Mexican hosts pick up on it instantly and appreciate the effort, as do all who we deal with daily.
So there you have it! Perhaps a somewhat hubris New Year's greeting. We'll continue, as we have all these years, to seek out restaurants and other enterprises looking to make our members long time customers. Yet within this post Your Club will provide some New Year's menus and a little more of this and that regarding local businesses that entrust Your Club to bring them customers.
Please, all this coming year, consider Mom and Pop when shopping San Miguel. Once again Happy 2023!
Let's get rocking!

HANK'S NEW ORLEANS CAFE & OYSTER BAR

THE RESTAURANT

DR. DEMETRIO HERNANDEZ

Always welcoming and providing the VIP Club discount to patients.
THE OPAL MINE, JEWELRY (Hernandez Macias #99)


(Its still the gift giving season and members always get the discount at The Opal Mine)
Members often forget when their memberships expire? Just look on the bottom on the back of your card.

MIVIDA RESTAURANT

DON VALENTE

VENENCIA

MARSALA


LA PUZZLERIA (Mesones #53 location ONLY, 20% off all puzzles through the holidays for VIP Club Cardholders)


MAKES FOR GREAT PRESENTS. THERE ARE SCORES OF IMAGES TO CHOOSE FROM OR EVEN HAVE ONE CUSTOM MADE.
LUNA DE QUESO


RESTAURANT "CAFE MONET"


LA HIJA EL MANANTIAL

EL PUERTO FRESH SEAFOOD


LA SIRENA GORDA


CAFE LULA

PESCAU


OCRE RESTAURANT


BASTARDO


Note Salvjaes Brassere has not yet signed up with the VIP Club
FENICIA (order your party trays and other Middle East delights)


BAJIOGO AIRPORT SHUTTLES (THE ONLY WAY TO GO)

IN NEED OF A VET? VETERINARIAN aka: Star Dog, Doctor Roxanda Godoy, animal veterinarian!  Perros y Gatos. House calls 415-153-6190, Zenzontle #15 Residencial La Luz, Monday to  Friday  9 am to 6:00 pm, Saturday: From 9:00 am to 3:00 pm.


CASA HOYOS


ZUMO NEW YEAR'S CELEBRATION


LA POSADITA

FOOD FACTORY – LA AURORA

NEOPOLITAN PIZZA (not everybody will be partying at the Ritz!

KALIMERA COCKTAIL MOBILE BAR SERVICE (Get the full treatment for your holiday affair handled by pros!)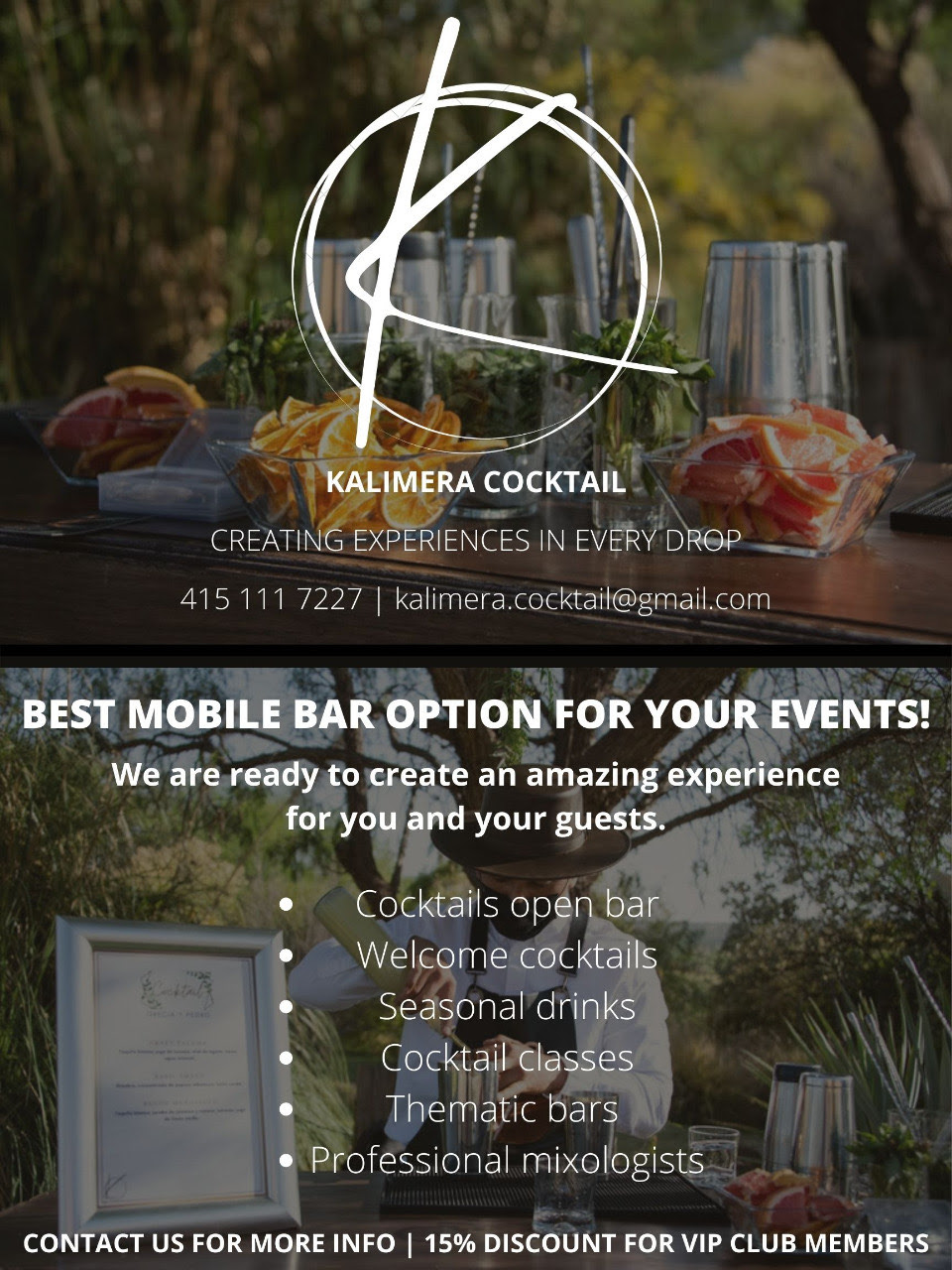 LA LAJONA CARNICERIA (VIP SPECIAL, TURKEYS $125 A KILO, SMOKED $155

CASA NOSTRA


LA DOÑA SAN MIGUEL


LA PARRILLA AL ROJO VIVO


EL TUPINAMBA

KENNY'S PLACE (COME SEE US ALL WEEKEND!)

Join author, travel and cooking expert, Kris Rudolph, of El Buen Cafe fame, on a Delicious Expedition: "The Magic of Michoacán Tour,"  March 4–11, 2023.


"Be dazzled by the beauty and indigenous heritage of Michoacán. Ancient traditions run deep in this central Mexican state, home to the descendants of the Purépecha Empire as well as generations of noted artisans. This area drips with history and charm; lush forests and picturesque lakes. We'll delve into the amazing culture of this land with expert guides while touring artisan studios and visiting village homes. We'll explore the region's ancient cuisine, meeting and cooking with cocineras tradicionales, acclaimed women who continue to use indigenous ingredients and practices. Their effort resulted in Mexican cuisine gaining UNESCO status as an Intangible Cultural Heritage of Humanity in 2010." For information on accommodations, itinerary, and pricing, please go to https://deliciousexpeditions.com/michoacan.html
For questions and curiosities, contact Kris Rudolph at [email protected]
Culinary travel around the world
www.deliciousexpeditions.com
Cooking classes in Mexico
www.deliciousexpeditions.com/classes-san-miguel.html
International writing workshops
www.eat-write-travel.com
GAS PROVIDENCIA (DON'T RUN OUT OF GAS! CALL THE TRUCK DIRECT 415-109-5357)


GAS PROVIDENCIA, has been serving San Miguel and a participating VIP Club business for ten years.
Gas Providencia has earned and gained a reputation touted by the membership gets points for Professionalism, Service & Honesty!
VIP Club Cardholders receive 65 centavos off each litro purchased from Providencia either if paying with cash or by credit card.
THE FUTURE: We hates to but we gotz to . . .  As of January 1st new, full-year memberships will cost $1000 pesos and renewals, within 60 days after the card's expiration, will be $800 pesos.

Please give if you can. https://www.feedthehungrysma.org/
R. I. P. R. I. P. EMILIO (MILO) GONZALEZ
Our Ana Ruffino, the wife of  The Pizza Guy, Joe Ruffino, at last report has prevailed! Ana & Joe Ruffino have been stalwarts of the community. Ana will be coming home. Extensive renovations need to occur in their home that are costly.  They still could use a helping hand.

Don't forget to report lost VIP Club Cards for immediate replacement.
Follow Your Club www.vipsanmiguel.com/ and what's going on daily etc.
Facebook: www.facebook.com/VipClubSanMiguel
Thank you for your continuous & loyal support.
Your San Miguel VIP Club