---
This VIP Club Newsflash is being sponsored by 

GAS PROVIDENCIA (DON'T RUN OUT OF GAS! CALL THE TRUCK DIRECT 415-109-5357)

GAS PROVIDENCIA, has been serving San Miguel and a participating VIP Club business for ten years.
Gas Providencia has gained a rgoo eputation touted by the membership earns points for Professionalism, Service & Honesty!
VIP Club Cardholders receive 65 centavos off each litro purchased from Providencia either if paying with cash or by credit card.
(Businesses or individuals can sponsor a VIP Club Newsflash – over 2000 are sent out locally cost 2500 pesos.)
Greetings:
Emphasis within these newsflashes usually features events and dishes provided by the VIP Club's line-up of our one-hundred or so participating restaurants. Yet, within this flash, we are going to change the focus a bit!
So we ask, please don't forget the almost 100 other local businesses & services hoping to develop local customers who reside in San Miguel and who are strong supporters of The Club.
Soon perhaps, many of you will be thinking about the gift-giving season and Your Club wishes to share examples of some options available right here in town that also offer VIP Club members discounts.
Hopefully what we post below will be eye-catching and provide gift giving ideas!
Let's get rocking!

TODAY: CIEN – FUEGOS, Carretera SMA. – Dolores km 7.5, located out on the road to Dolores.

SPA PAPATZAO, Terraplen #25. For VIP Club Cardholders www.papatzao.com

Other VIP Club participating Spas and Health Centers:
SPA ROJO, Umaran #23, full treatment center plus renowned for premium creams and lotions. http://www.sparojo.com/

ESENCIA Yoga Spa & Retreat, Potrero #13, Col. San Antonio. www.esenciayogaspa.com

THE NAIL LOUNGE, Plaza La Luciernaga, Local 14, 415-154-4321

THIS COMING WEEK
LA SIRENA GORDA


MOTHER & SON SHOW LAVINIA FRAMES.

AUREA, Mexican Concept Boutique, Relox #23, 442-669-1470 or 442-516-2763.. Design art, jewelry, clothing etc. www.aureasma.com/ Open Noon – 8:00 pm. Closed Tuesdays.


THE SOPHIA COLLECTION, Two locations: Correo #17 & Cuna Allende #15, Int. 5

CG LEATHERS, Zacateros #32, A variety of quality leather products, fashions and accessories.

GIRASOL, FINE AND CUSTOM MADE CLOTHING MOSTLY FOR WOMEN.

SATELLITE TV & STREAMING MEXICO (NEVER MISS A SPORTING EVENT. SEE FIRST RUN MOVIES, T MINI SERIES AND MORE)


CAMINO SILVESTRE (SEE THEIR LINE UP OF SPECIAL PERFORMING GUESTS THIS MONTH AT www.caminosilvestre.com/

OLIO FINO, Enhance your holiday dishes with oils and vinegars from Olio Fino. www.oliofino.com/


SANTO REMEDIO (MERCADO SANO) second floor, the perfect place to obtain gifts for friends and family. Jewelry, clothing, indigenous art, crystals, aromatherapy, CBD oil, smoking assesories and many other items can be found. Get your 10% discount with the VIP card!


AGUA MARNIER (San Miguel's favorite purified water company) 4 pesos off each garrafon, min. 4.

CRYSTAL VICTORIA DESIGNS Recreo #5 – El Zaguan, Zacateros #12, Crystal Victoria's studio (by appt. only) Montes de Oca #6a. 415 113 9925

ACTIVITIES
ALBERT COFFEE TOURS www.albertcoffeetours.com

FOLLOW ME TOURS, www.fmtours.mx

GLOBO SAN MIGUEL, (415) 114-2174, San Miguel's oldest and most experienced balloonists www.globosanmiguel.com


LEISURELY COUNTRY HORSEBACK RIDING, Easy going horseback tours in the nearby countryside, 415-111-8256, www.horsebackridingsma.com


3 SEÑIORS

ZIRANDARO GOLF COURSE www.zirandaro.com.mx


BONOM – CLUB DE PETANCA (THE HOTTEST, NEW FOOD, DRINK AND PETANCA COURTS IN TOWN!) www.bonom.mx/

CUATRI – RENTS  ATV RENTALS, Cuadrante #8 Centro, 415-103-2822

BAJIA DE LA LUNA (Beach side get-away resort Oaxaca) San Miguel owned and operated, VIP Club Cardholders ARE PROVIDED DISCCOUNTS OTHER THAN IN BLACK OUT PERIODS) www.bahiadelaluna.com
BLACK TATTOO & PIERCING STUDIO

MACDONALDS PACKAGE DELIVERY


San Miguel de Allende to Ancha de San Antonio 125A, apartment 19 (Chelo's apartments),
1. For the Delivery, will now have the option of delivering the packages to your home at no additional cost. Therefore, we ask you to send us your address to [email protected]
2. For the sale of vitamins and supplements, you can send your orders to [email protected] and we will deliver them to your home at no additional cost. Any questions or clarification please send an email or call the new phone number 415 121 1019 from 11am to 3pm.
AUTO SERVICE OLIMPIA ZUNIGA, Keep your vehicles road worthy for travel in Mexico)

VIP Club participating butcher shop, LA LONJA CARNICERIA (GET YOUR TURKEYS!)


Through the holidays VIP Club Cardholders pay $125 pesos a kilo for turkeys, or $155 if smoked!
VIP CLUB PARTICIPATING RESTAURANT & MARKET, LUNA DE QUESO (HAS YOUR HOLIDAY NEEDS)

BAJIOGO (YOUR GO-TO AND PREMIER AIRPORT-SHUTTLE SERVICE) VIP Club Cardholders pay just $23 USD for door-to-door, shared service to-or-from Leon or Queretaro's airports for cardholders and their party or visting guests. Plus a 10% discount on shuttles to-or-from Mexico City airport. Private service available. Ask about the car rental deal. www.bajiogo.com/

LA PUZZLERIA (Mesones #53 location ONLY, 20% off all puzzles through the holidays for VIP Club Cardholders)


MAKES FOR GREAT GIFTS


MAKES FOR GREAT PRESENTS. THERE ARE SCORES OF IMAGES TO CHOOSE FROM OR EVEN HAVE ONE CUSTOM MADE.
VIP CLUB PARTICIPATING BUSINESS, GIL'S SUPER GOURMET TIENDA. (GET YOUR HOLIDAY NEEDS)

VIP CLUB PARTICIPATING BAKER, LA VECTORIANA makers of unusual and creative baked goods now producing holiday "cake pops!" Call Jaqui 415 168 8429

LOS MUERTOS CLOTHING. Keep the poignant memories of Day of the Dead very much alive with a terrific line up of DoD T-shirts. www.losmuertosclothing.com/


MAKES FOR GREAT HOLIDAY GIFTS
KALIMERA COCKTAIL MOBILE BAR SERVICE (Get the full treatment for your holiday affair handled by pros!)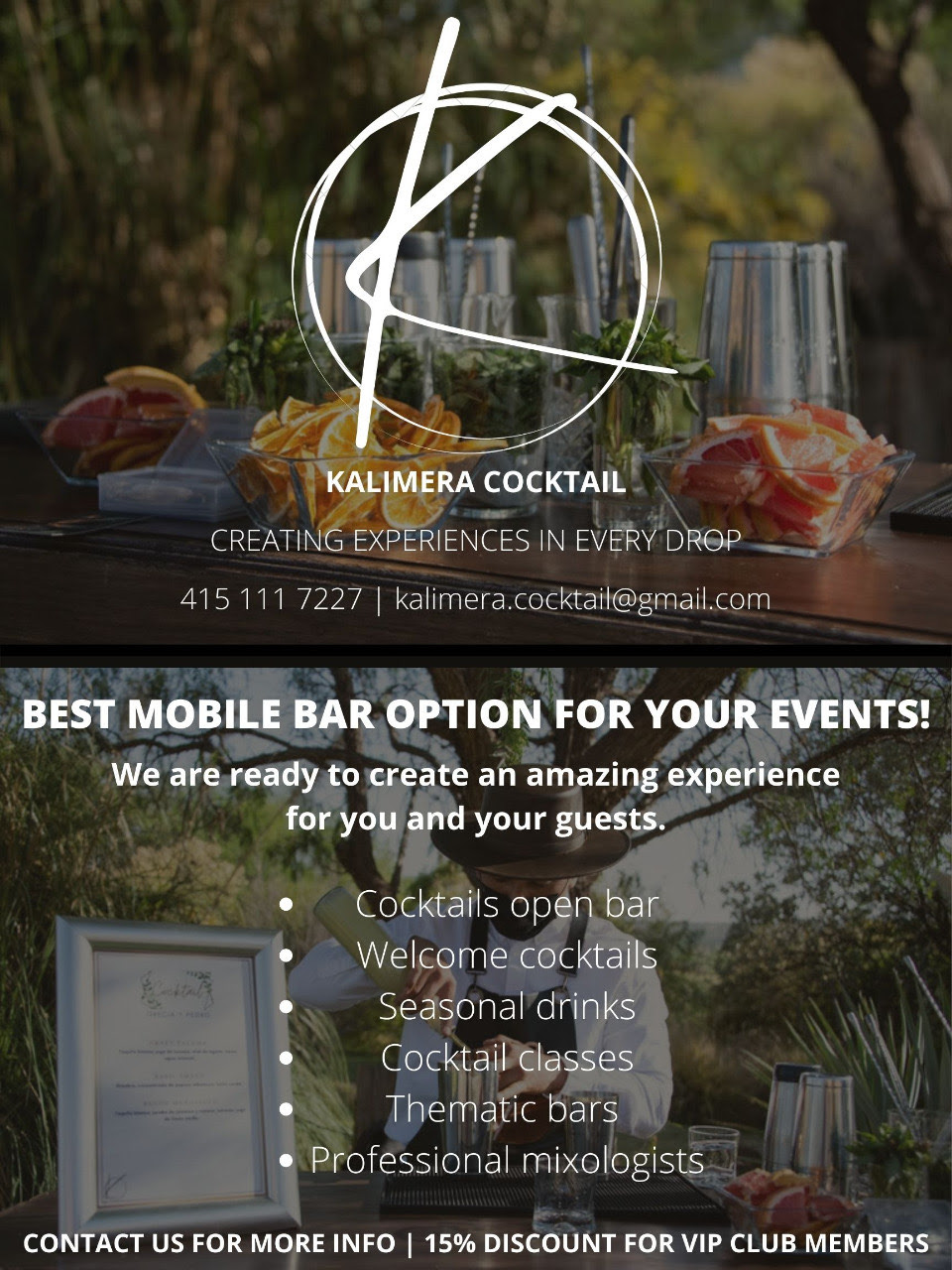 VIP Club member PAUL DICKSON, has just published:


Paul G Dickson, has published a new eBook about a ten month meander with wife, Helen, in 2007. San Miguel de Allende was going to be their starting point.
Ironically we would return to San Miguel eight months later to live full time.
However, during the proceeding eight months we wandered through other parts of Mexico, into the States and Canada, camping on and off for three months through National Parks and all over the Rockies, from Canada to the Galapagos Islands. We also did a stint in Cuba.
The stories about our travels are now on Amazon. All proceeds are going to Animal Rescue Organizations. GO to amazon.com, go to books, new releases (it's also listed under the Travel section) and type in – "Let's Pack and Go!"

Join author, travel and cooking expert, Kris Rudolph, of El Buen Cafe fame, on a Delicious Expedition: "The Magic of Michoacán Tour,"  March 4–11, 2023.


"Be dazzled by the beauty and indigenous heritage of Michoacán. Ancient traditions run deep in this central Mexican state, home to the descendants of the Purépecha Empire as well as generations of noted artisans. This area drips with history and charm; lush forests and picturesque lakes. We'll delve into the amazing culture of this land with expert guides while touring artisan studios and visiting village homes. We'll explore the region's ancient cuisine, meeting and cooking with cocineras tradicionales, acclaimed women who continue to use indigenous ingredients and practices. Their effort resulted in Mexican cuisine gaining UNESCO status as an Intangible Cultural Heritage of Humanity in 2010."
For information on accommodations, itinerary, and pricing, please go to https://deliciousexpeditions.com/michoacan.html
For questions and curiosities, contact Kris Rudolph at [email protected]
Culinary travel around the world
www.deliciousexpeditions.com
Cooking classes in Mexico
www.deliciousexpeditions.com/classes-san-miguel.html
International writing workshops
www.eat-write-travel.com
In our last newsflash Your Club welcomed PURA VIDA, Insurgentes #172, (corner of Insurgentes and Quebrada),  breakfast, lunch & dinner, 415-121-3904, open Wednesday through Monday, 9:00 am. Midnight! Tony is your host.

Read about our Johnny Starbuck, written by local photographer and writer, Walter Hodges! The in-depth profile offers keen insight about Johnny and his 30-plus year career and relationship with the iconic Rock & Roll band, The Rolling Stones. https://www.walterhodges.com/blog/profile-johnny-starbuck
Counter Cultures, 
HQ for plumbing fixtures, faucets, hardware and parts, Libramiento a Dolores Hidalgo y Calle Santa Rosa, Colonia Providencia, San Miguel de Allende, Mexico, 37737, sponsored our last flash.
THE FUTURE: As of January 1st new, full-year memberships will cost $1000 pesos and renewals, within 60 days after the card's expiration, will be $800 pesos.
Please give if you can. https://www.feedthehungrysma.org/
Our Ana, the wife of  The Pizza Guy, Joe Ruffino, could use help! Ana Ruffino is in trouble. The Ana & Joe Ruffino are notorious for being among the first back to the community! Now they could use a helping hand.

To Our Friends, Joe and Ana Ruffino, immediately need help. Ana contracted a rare form of Guillian-Barre Syndrome several days ago. She is fighting for her life in the Star Medical hospital in Mexico City. She has been in the Intensive Care Ward. She is making progress. We are hopeful. Unfortunately, the daily costs are enormous ($3,000 to $4,000 dollars per day). The hospital requires prepayment daily. Ana & Joe urgently need our help to provide Ana the absolute best care and medicines possible. Get well Ana!
Don't forget to report lost VIP Club Cards for immediate replaceme
Follow Your Club www.vipsanmiguel.com/ and what's going on daily etc. on
Facebook: www.facebook.com/VipClubSanMiguel
Thank you for your continuous & loyal support.
Your San Miguel VIP Club